Before we get to Sunday's
glorious
run, let me start by giving you the body % stats. So, while at the gym on Thursday, I built up the courage to test my body fat %, something I have been scared to do, seriously, does anyone really want to know how much of their body is made up of FAT, not I, but in order to keep my goal of 21% in check, I had to know. And the verdict... 22.7%. Not quite 21, but heck I'll take it, uhthankyouverymuch! Seeing that number gives me hope that I can make it to 21 - and dare I say... even
lower
?!?! Eek! Maybe I shouldn't even go there yet! Now that I'm writing this, I'm wishing I would have taken a pic of it, but then I remembered that my phone was too full and I couldn't take a pic even if I wanted to - womp womp #firstworldproblems!
Now, let me continue on through the weekend, shall we? Can I just tell you that Friday was THE.BEST.DAY.EVA! My sweet hubs surprised me and told me not to make any plans on Friday but wouldn't tell me what was in store. My mind was spinning with thought of what he had cooked up... pretty sure I went to bed Thursday night dreaming of my
surely
impending day of pampering. Friday morning comes, and J tells me that we are taking the kids to this drop in day care down the street (that we've used a few times and the kids LOVE) and we are going to have an all day date. Not quite a relaxing massage or day of beauty, but that would most def be the next best thing (or vice versa)!
First stop... Gourdough's Donuts!
Can I just say, OMG! That S was gooooooood! We indulged in a little flying pig (donut with bacon and maple syrup icing) and funky monkey (basically a bananas fosters donut... yeah) action. DELISH!
Next up, was a stroll down memory lane...
Uh, sure glad this wasn't posted when we got married!
The spot where we stopped to watch the fireworks - I'm tellin' you,
I wish I could have been a guest at our wedding!
They recently closed down - but at least we will forever hold the record for most alcohol consumed by a wedding party there - ahh so proud! Word to wise, you need to explicitly tell the bartenders NOT to serve shots. Actually, scratch that, just don't have an open bar!
BTW - that river sludge was not there six years ago!
Then, a little paddle boarding :) Super easy BTW! And so much fun! We felt like the cool kids for minute!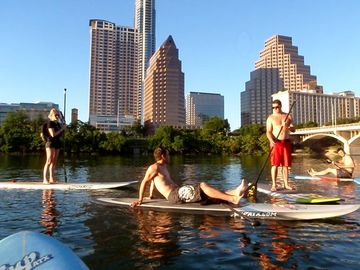 This is just a stock photo I found, we didn't actually take a camera with us, but this was our view!
Didn't think we had it in us after the donuts, but some how we found our appetites again and hit up Umami Mia's for some lunch...
I LOVE that they use organic, farm to table ingredients at soooo many Austin eateries!
not exactly Home Slice, but it was alright
Just havin' a little fun in the crazy mirror outside - the pic doesn't do it justice, but I'm pretty sure this is what we would look like as "little people"!
And what better way to top off a day of gluttony then with some ice cream, am I right?!

Ah, I love this dork!

This place was simply AMAZING, seriously y'all best freakin' ice cream I have ever had (except for some homemade peach ice cream we made by hand when I was a kid). Can anyone say dark chocolate with olive oil and sea salt & coconut peanut butter chocolate swirl?? All in a homemade waffle cone! Um yeah!
After we left Lick, we took the scenic route home, through downtown and the UT campus (
The Drag)
, it was so fun and nostalgic! Passed about a million and one places we want to eat. Seriously, Austin is like a food paradise! My friend Lisa keeps asking me if we're eating our way through Austin, um yeah! Is there any other way?! In case you're wondering, I am fully aware of how incredibly amazing and thoughtful my hubs is - I am truly blessed!
Anyhoo, we got home, relaxed, "took a nap", and went to get the kiddos, who I totally missed at that point - is that weird? We took the kids swimming and ended the night with some delish Mighty Fine burgers - mmmm! and finished off season 2 of Mad Men. Ahhh, it really was a perfect day (even if there was no massage, womp womp)!
Unfortunately, the feeling of euphoria did not follow me into my run on Sunday. Shesh! Now, I will tell you that this 100% could have been prevented had I made an attempt to get my butt out of bed at 6 am - or gone to the gym to get my run in on the dreadmill, but I really hate doing long runs on the 'mill, you know?! So yes, I suited up and honestly thought I was badass enough to handle a 7 mile run at 1pm in 100* heat. Yeah... soooo not a badass!
I made it about 3 miles before I thought I might die (good thing I decided to wear my camelback on this run, otherwise I may have seriously died!). I had to stop and walk or light jog (which is basically walking with a little bounce) SEVERAL times! Had to refill the camelback half way through, but I kept going (mainly because I knew I didn't have a choice, if the kids weren't napping, I totes would have called J to come pick my butt up!). I guess it's a good thing my Garmin died half way thru the run, cause I don't even wanna know what my pace/time was! Ugh, that was THE.WORST.RUN.EVER!!!!! My bad. I shall make a better choice next weekend! But hey, week 4 is in the books - holla!
Hope you all had a fantastic weekend!
-Candice